MONDAY to FRIDAY -- 05:00 AM - 09:00 AM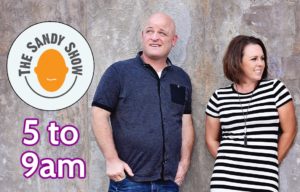 Thanks for checking out The Sandy Show!
Here is what you need to know:
Yes, we are married to each other… barely.
No, we did not marry our best friends.
Tricia has no filter. If you don't want an honest answer, don't ask her!
Sandy loses things all the time.
Together they have a 10-year-old nicknamed "The Fuzz."
Tricia loves Brad Pitt.
Sandy loves Kate Upton.
Tricia drives Sandy crazy.
Sandy drives Tricia crazy.
Tricia is borderline OCD. Her stress level is determined by how organized things are.
Sandy does not share this trait with Tricia.
Tricia has ice water in her veins.
Sandy has a big heart.
Tricia has annoying habit of being right.
Tricia loves watching TV and going to the movies.
Sandy is not crazy about sitting still.
Sandy is a string art expert.
Tricia has a love of iced sugar cookies and all things food related.
Tricia cannot cook.
Tricia and Sandy both look ridiculous in hats.
Tricia has an amazing ability to lie ON THE SPOT.
Sandy has an amazing inability to lie thanks to his Catholic guilt.