Monday -- 06:00 AM - 10:00 AM
Tuesday -- 06:00 AM - 10:00 AM
Wednesday -- 06:00 AM - 10:00 AM
Thursday -- 06:00 AM - 10:00 AM
Friday -- 06:00 AM - 10:00 AM
Saturday -- 10:00 AM - 02:00 PM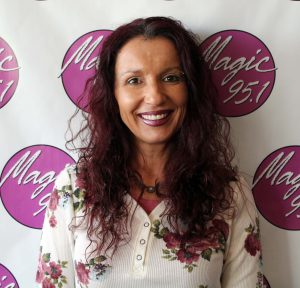 Magic Mornings With April
Mon to Fri 6am – 10am
Saturday 10am – 2pm
It's a NEW way to wake up!
Magic Mornings with APRIL is Magic 95.1's new morning show! April is a southern Illinois native, and after several years of doing radio and surviving the traffic in St. Louis, she's excited to be back home. April has all the info you need to know to start your day…plenty of southern Illinois' greatest hits, special guests, chances to win and MORE! Then at 9, she kicks off the 9-To-5 No Repeat Workday.
You can always interact with the show by calling OR texting April at 618-985-5616!
April's Blog
Today is Tuesday, June 22nd. It's National Kissing Day, National Onion Rings Day, World Rainforest Day, Chocolate Eclair Day, Positive Media Day, Worldwide VW...
Read More