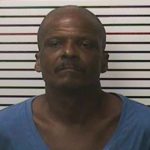 CARBONDALE, Ill. (WJPF) – A Carbondale man has been arrested for robbery.
At about 10:20 p.m. Friday, Carbondale Police say they were called to the 700 block of East Main Street after a report that a man, claiming to have a weapon, entered a person's room and demanded money. Roosevelt Clark, 51, was arrested a short time later.
Clark was taken to the Jackson County Jail on charges of aggravated battery and for failing to appear in Williamson County Court for a traffic offense.