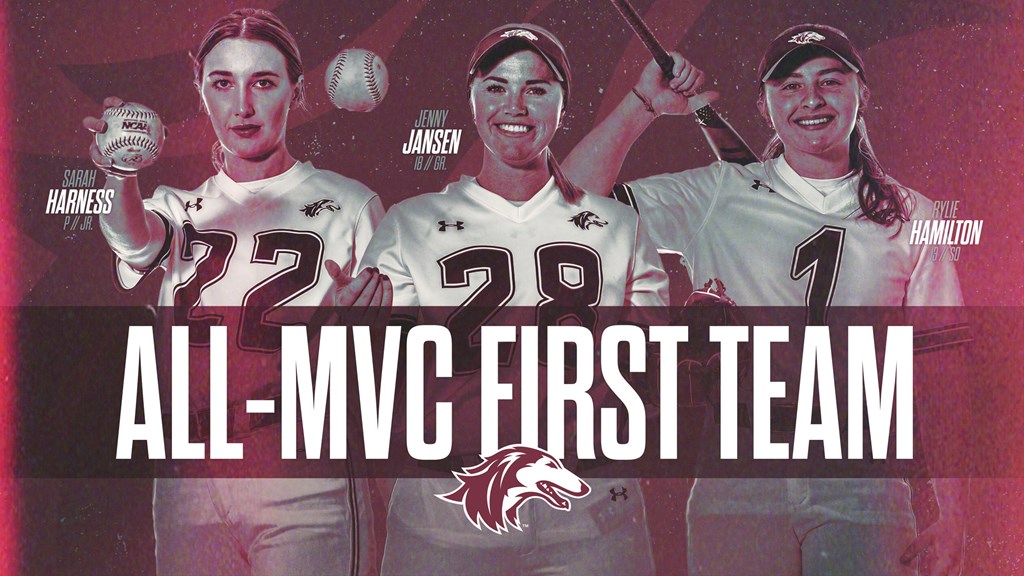 The Southern Illinois University softball team had four student-athletes earn all-conference honors as the Missouri Valley Conference announced its annual awards on Wednesday.
Redshirt senior first baseman Jenny Jansen, sophomore third baseman Rylie Hamilton and junior pitcher Sarah Harness were named to the All-MVC First Team, while sophomore outfielder Elizabeth Warwick was selected to the Second Team. Senior catcher Sidney Sikes, meanwhile, was named to the MVC All-Defensive Team.
Jansen earned the third All-MVC honor of her career after a super senior season in which she led the MVC in both on-base percentage (.505) and walks (35) and finished second in the league in batting average (.387), hits (58), and RBI (43). The Warrenton, Mo. native slashed .387/.600/.505 with five doubles and nine home runs while setting school records in both career RBI and hits. Jansen recorded at least one hit in 32 of SIU's 46 games, which included 16 multi-hit games. In addition to her prowess at the plate, Jansen also went 2-0 in the circle, which included a complete game victory over SIUE on March 14.
Hamilton earned her first career all-conference honor after she claimed a spot on the All-MVC First Team. The Cabot, Ark. native finished third in the league in hits (57), fourth in runs scored (39), fifth in batting average (.351) and sixth in RBI (35). The sophomore third baseman had a team-high 17 multi-hit games, which included four three-hit games. She also reached base safely at least once in 38 of SIU's 46 games.
Harness had a solid season in the circle for the Salukis to earn her second-straight All-MVC honor. The Bowling Green, Mo. native finished the regular season ranked in the top-3 of the MVC in wins (3rd; 17), innings pitched (1st; 189.0) and strikeouts (3rd; 154). A now eight-time MVC Pitcher of the Week selection, Harness went 17-10 with a 3.07 ERA in 189.0 innings of work. She threw 16 complete games and held opponents to a .251 batting average.
Warwick was named to the All-MVC Second Team for the first time in her young career. The sophomore from Chattanooga, Tenn. finished fourth in the Valley in RBI (37) and 10th in doubles (10). 27 of her 37 RBI came during MVC play, which were the second-most in MVC games this season. Warwick hit .299 with 10 doubles, seven home runs and tallied multiple hits in 15 games, which included a pair of three-hit performances.
Sikes earned the first postseason accolade of her career after she was named to the MVC All-Defensive Team. Sikes has started 42 of SIU's 46 games behind the plate and threw out 15 runners attempting to steal. She not only leads the MVC in the category but ranks 10th nationally.
Southern is back in action Thursday at the 2022 MVC Tournament, hosted by Missouri State. The Salukis will await the results of Wednesday's and Thursday's early game before knowing their opponent for Thursday evening's tilt.