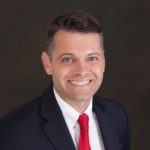 MURPHYSBORO, Ill. (WJPF) — Murphysboro attorney Steven Bost has been appointed by the Illinois Supreme Court to be an at-large judge in the First Judicial District.
Bost will fill the vacancy created by the retirement of Judge Brad Bleyer. The appointment will take effect March 1, 2021 and end in December of 2022 when the vacancy will be filled by the winner of the November 2022 general election.
Bost has served as the Chief Public Defender in Jackson County since 2019. He's a graduate of the SIU School of Law.