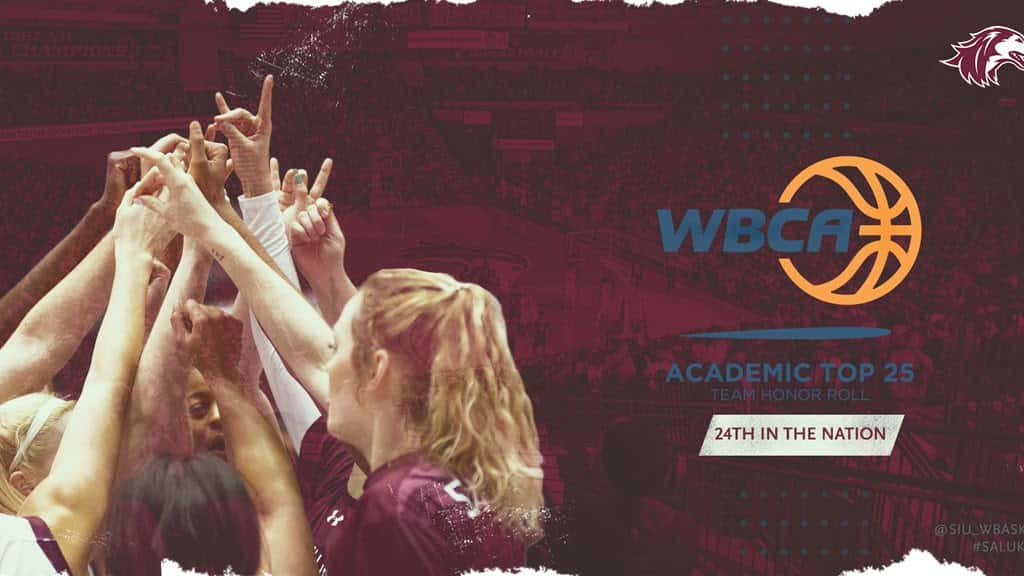 The Southern Illinois University women's basketball team (3.625) boasts the 24th-best combined grade point average among NCAA Division I schools, the Women's Basketball Coaches Association (WBCA) announced Tuesday.
SIU's 3.625 combined GPA for the 2019-20 academic year was aided by it's program record 3.82 GPA during the 2020 spring semester in which all 14 players recorded GPAs of 3.5 or better while six student-athletes notched perfect 4.0 GPAs.
The Salukis are joined by the Drake Bulldogs (No. 14, 3.690 GPA) as the only Missouri Valley Conference programs to earn inclusion on the list.
"Our players have really risen to the challenge of being successful both on and off the court," said seventh-year head coach Cindy Stein. "They are a special group with a high intellect. Our great academic staff and our assistant coaches all deserve credit for pushing and mentoring these young ladies as well."
It marks the sixth time overall, and the third time in the last four seasons, that Southern has garnered a spot on the WBCA Academic Top-25 list. SIU's cumulative Team GPA of 3.625 is the highest it has been of the now six times that the Salukis have received the honor.
The WBCA Academic Top 25 recognizes NCAA Division I, II and III, NAIA and two-year GPAs inclusive of all student-athletes on their rosters for the entire season. The 2019-20 season is the 25th in which the WBCA has compiled the honor rolls.
"The WBCA applauds these head coaches and their teams for their commitment to academic excellence," said WBCA Executive Director Danielle Donehew. " We appreciate and value the hard work and dedication the players and coaches have put forth to thrive in the classroom and on the basketball court."