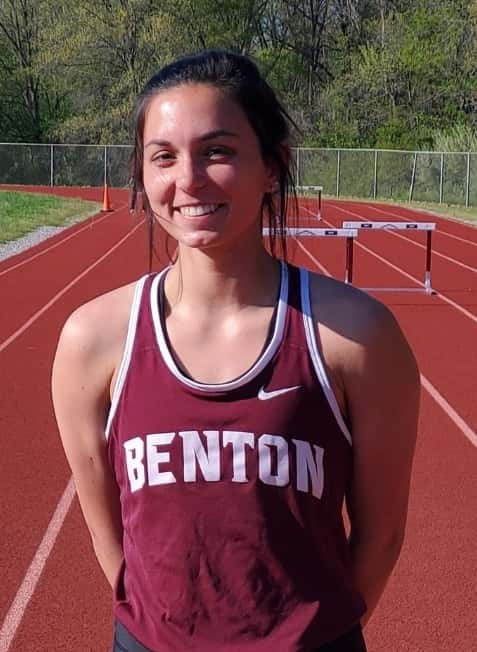 Madi is a returning All-State hurdler in Class 2A. She placed in both the 100 HH and 300 LH at the state meet last Spring. She is also top in her class academically.
She will compete in track and field next year for Loyola Chicago Ramblers.
From Madi Herself!
Q: What moment in your high school athletic career sticks out most to you?
A: Last year winning conference with my team. It had been a long time since Benton even had a chance of winning and we worked hard day in and day out and it was the best feeling being so excited with my teammates.
Q: How have you and your teammates tried to keep in contact despite the coronavirus?
A: My teammates are also some of my best friends so we talk all the time! But, we try to get together and run, outdoors and social distancing style! I happen to be friends with almost all distance girls so I will hurdle when they do long runs.
Q: How has the coronavirus affected your view on sports?
A: It has shown me how much of a passion I have for running. I thrive off the sport and I have been shown that it is more than just competing and going to state. Running is what makes me feel good and what makes me happy  and I have come to really value that during this season
Q: Once the pandemic is over with and life gets back to normal, what are you most looking forward to?
A: Hopefully running summer meets! I can't wait to get a meet in! I also cannot wait to go eat pasta with all my teammates the night before the race.
Q: What goals do you have for yourself post-graduation, sports-related or life-related?
A: I will be continuing my track career at Loyola University Chicago while studying biology on a pre- occupational therapy track. I will be running 400 m hurdles, so my goal is to place my freshman year at the MVC meet. Another goal for me is to spend as much time with my family before I go off to school.
---
If you know a senior athlete (high school or college!) who's season was cut short due to the Coronavirus please nominate them on our Senior Hot Shots page for a chance to be recognized!