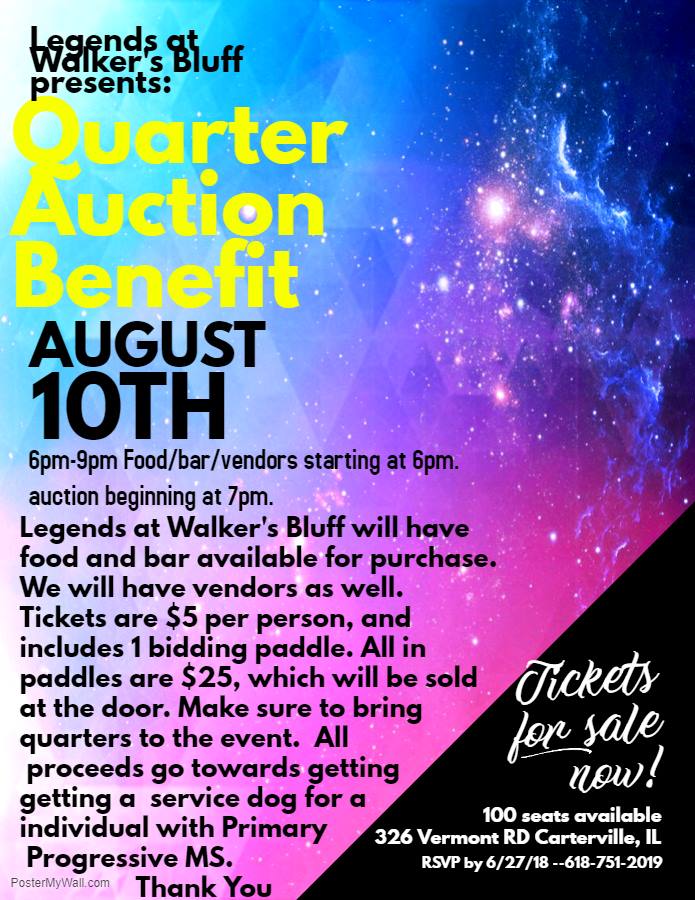 Dear potential donator,
                In August 2015, Andrew had 2 strokes at the age of 28. While in the hospital they discovered after many tests that there were lesions on his brain and spine. Andrew was sent to STL, and was diagnosed with Primary Progressive Multiple Sclerosis. Andrew started off with chemo therapy every 3 months, and steroid infusions to help with inflammation on his brain. On May 17,2017, Andrew lost a good portion of his sight due to lesions forming on his optical nerves, the doctors tried high steroid infusion, but he never regained his full ability to see, leaving him legally blind. Andrew struggles with every day activities that are so simple for other people, which is why we are raising money to pay for a service dog to help Andrew with mobility.
                On 
August 10, 2018
 we will be having a quarter auction benefit located at Walker's bluff Legends. There will be food, bar, and vendors at this event to help support the cause. We are seeking donations to be used for the quarter auction to be auctioned off. 100% of all proceeds made during this event will go directly to Andrew's service dog fund. Please consider donating an item or a basket, everything helps this event!
                I would personally like to thank you for your time and consideration for donations for this event. A mobility service dog could help Andrew regain strength and mobility that he struggles with by himself.
Thank you for your time and donation,
Rachelle Keim