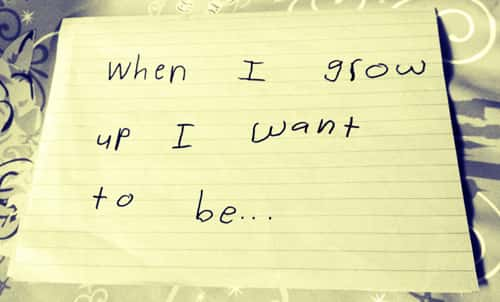 When I was a kid, I had all kinds of ambitions and dreams. When adults would ask me, "What do you want to be when you grow up?' I had a long list of occupations that I was sure I would pursue. Being enrolled in a Catholic grade school, my first ambition of course, was to be a Nun. I mean, you wouldn't have to deal with boys and you didn't have to decide what to wear every day. Plus, black is slimming. Yes, the convent life was an option.
Later, because of my great love for animals, I decided I wanted to be a vet and take care of animals every day. This was before I realized I would also have to help them cross over the Rainbow Bridge. Then after a family vacation to visit friends in LasVegas, I decided I would be a Las Vegas Showgirl! Forget that I had a love of all things sugar, (and I'd never make it to 5′ 3"), I thought 'How great would it be to dance on stage in a sparkly outfit with all your girlfriends?!'. I was too naive at that time to understand the seedy Las Vegas of the 1970's. Vegas was a dark, crime ridden place 40 years ago. After all, it didn't get the name, 'Sin City' for nothing.
After a few years, I came to the conclusion that I probably wouldn't be a Nun, a Veterinarian, or a Las Vegas Showgirl. Eventually, my ambitions changed, as did television, and that's when I decided that I would be an MTV VJ! These were the days when MTV actually played music videos! I loved music and I thought Martha Quinn and Nina Blackwood were the coolest chic's ever! We could be BFF's, (before anyone ever said BFF) and lunch together and go shopping and introduce rock stars at concerts!
Naturally, my first step was radio. I mean, don't all television personalities start out in radio? As a kid, I would imitate the commercials on TV. My inquisitive mind wondered how everything came together behind the scenes. Now, back before the Internet was in every hand of every human being on earth, radio people were unrecognizable in public. No one knew what you looked like, unless you were at a remote broadcast or MC'ing an event. I loved the anonymity of it all. You either liked listening to the person on the radio or you didn't. And besides that, radio is cool!
So, in 1984, a week before my 19th birthday, I went to my local radio station in Waverly, Tennessee and read a commercial. For some reason, the owner hired me. I'm sure it was my enthusiasm. If you could have heard me then, you wouldn't recognize me now. During my first year in radio, my Dad kept telling me how awful I was and that I should go back to college. Eventually, I learned to just be myself and have fun and when I did that, my Dad changed his tune (no pun intended). He said, "You're the best one there, Hun." Of course he was biased, but his compliments encouraged me and I'm still in love with radio today.
Unfortunately, my Dad passed away before he could see some of the highlights of my career. I have co-hosted a portion of The Grand Ole Opry three times, I have recorded and hosted radio shows that broadcast in London, England. I have done commercials and industrial voice overs (voicing slide shows and on hold answering messages, for example) all over the United States as well as in Europe and the Middle East. Eventually, I went back to school and earned a Bachelors Degree in Psychology. These are things that I think would have made my parents very proud.
But, being a "Radio Personality" isn't all I want to be when I grow up. I still have ideas and ambitions that I will pursue when the time is right. I still have a love of all things sugar, but that won't keep me from accepting the right television opportunity (thank you Oprah). I want to be a successful songwriter. I would also like to try my hand at writing. And I WILL read all the books on my bookshelves at home! Eventually, I will go back to school to earn a Masters Degree in Counseling.
If you started something that you had to put down, maybe the time wasn't right for you to finish it? Don't give up your dreams, whatever they may be. You'll be able to continue when the time is right. Keep in mind, timing is everything. Don't stop asking yourself, "What Do You Want to be When You Grow Up?"